Students Connect through 'Lunch and Learn'
Keith McAleer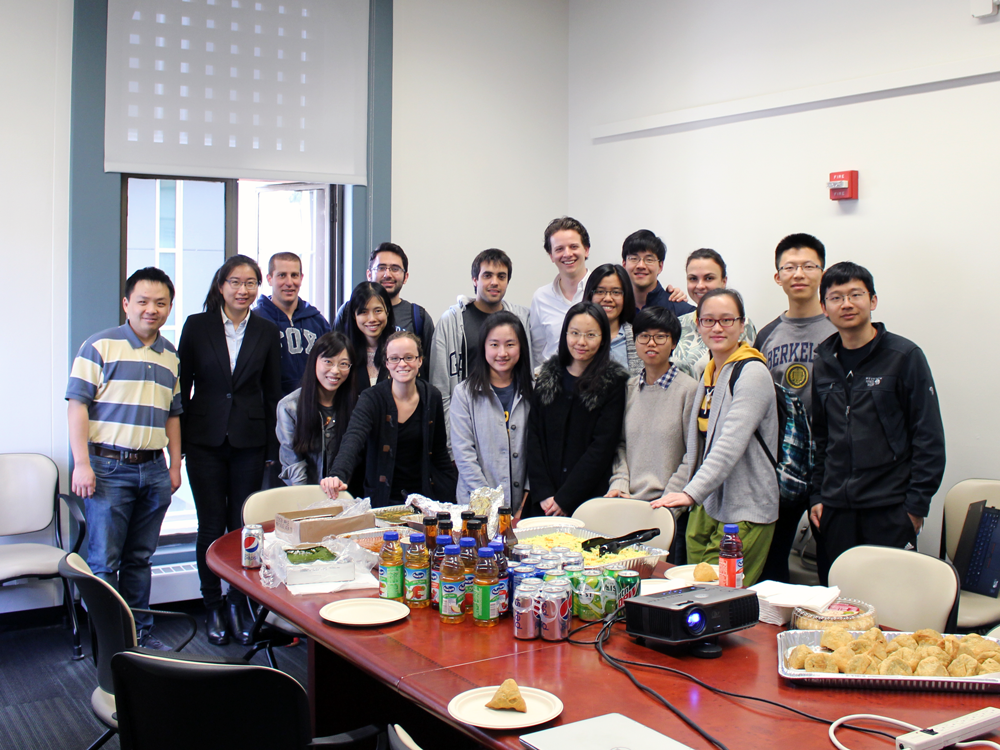 Back row: Cheng Lyu, Mo Zhou, Dean Grosbard, Salar Fattahi, Alfonso Andres Lobos Ruiz, Quico Spaen, Kevin Li, Tugce Gurek, Wei Qi, Sheng Liu Front row: Dimin Xu, Shiman Ding, Amber Richter, Xu Rao, Mengyu Li, Haoyang Cao, Yiwen Tang, Junyu Cao
PhD students Cheng Lyu, Kevin Li, and Quico Spaen are helping IEOR students connect in a new way by reviving and re-thinking an old program. The lunch and learn seminar brings together graduate students to discuss research topics, practice presentation skills, and learn about the latest software, tools, and techniques in the field. IEOR had a similar initiative in the past, but this time around the organizers are putting more focus on student needs to build the agenda. And with the IEOR department providing lunch to support the program, students can more easily participate.
"We also had this tradition three years ago, but the format was that one student would present his/her work for the whole hour," remarked Cheng, "Basically, he/she used it for just rehearsal purpose. So, if I went to a conference or was doing a defense I could use this forum to give a presentation for one hour. There are good and bad things [about doing it this way]. The bad thing is because our audience does not know much about the topic of each talk, that if they talk for an hour, it is not that effective. So, this time we want to make it more diverse, and look at what the demand is from the group — what they need — and then cater to that demand."
By focusing on what students need and working to deliver diverse content, the initiative is not only helping students practice their presentation skills, but serving them in other ways. For example, by allowing more than one topic per session, first-year students can learn about more topics in IEOR, helping them to make better decisions about what to research while here at Berkeley. The forum also gives students focusing on diverse topics in IEOR (e.g. energy systems, financial systems) a reason to connect with each other. Ultimately, since each student uses similar IEOR tools no matter the topic, these new connections can help give students a fresh perspective on their own research.
The initiative is also focusing on getting students acquainted with the software and techniques that are becoming more important for the field. For example, the first session this year showed students Git, a version control software, and the basics of how to set up a Python development environment.
"We see computation as being a big part of our research and our career. So, we had a session on Python — and not holding your hand through the entire process — but pointing you to the right resources, getting you started, and hopefully get your hands dirty. Everyone is busy, so we want to make these things accessible in an efficient way," said Kevin.
For the next session, the group sought feedback and focused on a completely different topic.
"At the second session we did a research and career panel because a lot of people were interested in doing internships, and wanted to know what other people in the department were working on. So, the idea of that session was to foster that interest and to get people knowledgeable about what other people are doing in terms of research, internships and jobs," said Quico.
Ultimately, besides helping students practice new skills, become acquainted with the latest tools, and learn about what their colleagues are researching, the lunch and learn initiative's biggest value might be in helping students get connected in the first place.
"This lunch and learn may be small but it's already creating a better atmosphere in the department. When I first came here 4 or 5 years ago, first year students generally got together because of preliminary exams, but after the second year they disappear, you don't know where they are," said Cheng, who also mentioned that the current department renovations, which had a big focus on making the graduate offices more usable, also helped students connect this year,"And [before the renovations] only a few students were here [working at school]. I never saw others and didn't know what they were doing or what they were up to. So, I felt isolated, especially when I got stuck on something. I feel that it is better to have someone to talk to besides just your advisor, because you can't always see him or her. We think that by doing this seminar that we can get everyone more activated."
For more information about the lunch and learn initiative, contact Cheng Lyu, Kevin Li, or Quico Spaen